The advantages of using a Standing Desk
An adjustable desk is an option that is becoming more and more popular, because it is a type of furniture that can be adapted to the way we work, which makes it very versatile for practically any task or need.
In this sense, it is important to highlight some of its main advantages: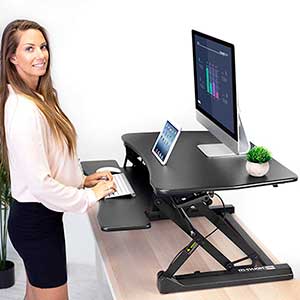 Accessible to work in any position.
They help to improve posture.
It is healthier, as you can adapt it to your physical qualities.
The height-adjustable desk avoids having to invest in furniture for meetings and presentations.
Maximum versatility and adaptability to any type of work.
Motivates you to be more relaxed.
Allows you to combine sitting and standing work.
Reduces back pain.
These are the main benefits of a height-adjustable desk, but in order to enjoy all of them, it is important to know the different models of height-adjustable desks that exist on the market if we want to buy one.